Uchusentai NOIZ @ The Best of Anime 2012
Sept. 16, 2012
SMX Convention Center, SM Mall of Asia
Uchusentai NOIZ
Best of Anime 2012 Day 1
Sept. 15, 2012
SMX, SM Mall of Asia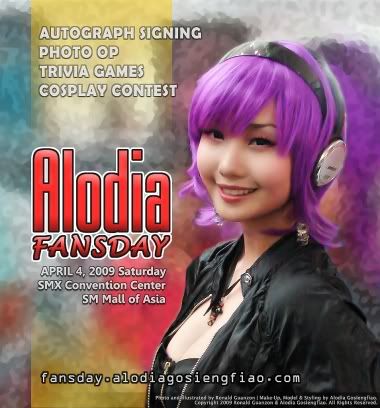 Here's the list of Activities and the tentative Schedule for Alodia Gosiengfiao's Mini Fansday to be held on April 4 at SMX, SM Mall of Asia.
Activities

a. Alodia's gallery (pictures and artworks)
b. Autograph signing
c. Live contests c/o Fans Club Organizers

SCHEDULES:

12:00PM — First 50 attendees to have Photo Op with Alodia
12:30PM — AVP of Alodia
01:00PM — Host with Alodia and Q and A portion
01:30PM — Trivia question game
02:00PM — Cosplay as Alodia contest
02:30PM — Awarding
03:00PM — (Special)

*schedule may change without prior notice.
Source: fansday.alodiagosiengfiao.com via Azrael's Merryland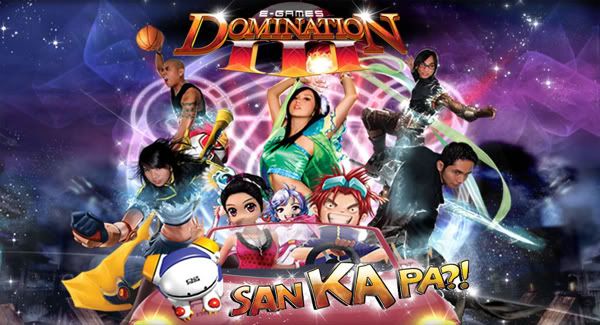 E-Games' Domination III event will be held on April 4, 2009 at SMX Convention Center.

Art Contest- Seven-Day Shuffle by *mangaholix on deviantART
Art Arena: The Seven-Day Shuffle
Art Arena: Quick Draw: Seven Day Shuffle is an art contest sponsored by the United Nations, UNESCO, NCCA and Groundbreakers Inc., in cooperation with Manga Kami! Studios. Entries will only be accepted during the Mangaholix Manga Mania Animangaming convention at SMX Convention Center, Mall of Asia on May 31st.
DEADLINE
Before 3:00pm on May 31, 2008 during the Mangaholix Manga Mania convention. Please submit your entries to the main Mangaholix booth.
THEME
You must create a pin up, editorial cartoon or 1 page comic that promotes one (1) of the UN's Millennium Development Goals.
Strictly NO SOFTCOPY entries!
HARDCOPY ENTRIES
• Any medium is acceptable.
• Entries should be in A4 size
• Landscape or Portrait orientation is acceptable
• Should include 3 copies of the entry. Xerox or reprints are acceptable (Do not pass the original copy of your work)
GUIDELINES
• Contestant must be a Filipino citizen or resident
• Any elements in the artwork that is deemed inappropriate for public viewing shall be immediately disqualified (e.g. gore, nudity, sex, extreme violence etc.)
• Plagiarism is strictly prohibited (The use of characters, concepts or elements that are registered and copyrighted under any recognized creator or company).
• Collaborations (Artworks with multiple contributors) are accepted.
PRIZES
• First Place: Php 2,000 •Second Place: Php 1,000 •Third Place: Php 500
About the United Nations Millennium Development Goals
By 2015 all 189 United Nations Member States have pledged to:
1. Eradicate extreme poverty and hunger
• Reduce by half the proportion of people living on less than a dollar a day
• Reduce by half the proportion of people who suffer from hunger
2. Achieve universal primary education
• Ensure that all boys and girls complete a full course of primary schooling
3. Promote gender equality and empower women
• Eliminate gender disparity in primary and secondary education preferably by 2005, and at all levels by 2015
4. Reduce child mortality
• Reduce by two thirds the mortality rate among children under five
5. Improve maternal health
• Reduce by three quarters the maternal mortality ratio
6. Combat HIV/AIDS, malaria and other diseases
• Halt and begin to reverse the spread of HIV/AIDS
• Halt and begin to reverse the incidence of malaria and other diseases
7. Ensure environmental sustainability
• Integrate the principles of sustainable development into country policies and programmes; reverse loss of environmental resources
• Reduce by half the proportion of people without sustainable access to safe drinking water
• Achieve significant improvement in lives of at least 100 million slum-dwellers by 2020
8. Develop a global partnership for development
• Develop further an open trading and financial system that is rule-based, predictable and non-discriminatory. Includes a commitment to good governance, development and poverty reduction – nationally and internationally
• Address the least developed countries' special needs. This includes tariff- and quota-free access for their exports; enhanced debt relief for heavily indebted poor countries; cancellation of official bilateral debt; and more generous official development assistance for countries committed to poverty reduction
• Address the special needs of landlocked and small island developing States
• Deal comprehensively with developing countries' debt problems through national and international measures to make debt sustainable in the long term
• In cooperation with the developing countries, develop decent and productive work for youth
• In cooperation with pharmaceutical companies, provide access to affordable essential drugs in developing countries
• In cooperation with the private sector, make available the benefits of new technologies – especially information and communications technologies
For more information on the Millennium Development Goals, see the following Websites: Millennium Development Goals & United Nations – Philippines