Rhianna Floresca bested 6 other candidates to win Animax's Ani-Mate contest during the Animax Carnival held at Robinson's Atrium mall.
Who Will Be Animax's New Ani-Mate?
In October, Animax launched a contest to search for its next Ani-Mate TV presenter.
With a 25,000 peso cash prize at stake, the winner will become the new personality on Animax and join Ani-Mate Alodia Gosiengfiao to co-host the Ani-Time with Alodia segment. She will be a part of Animax events as well.
The final round of the contest is set to be a highlight of the Animax Carnival 2012 at Robinson's Ermita on December 9, 2012
Of the dozens of hopefuls, seven spirited young ladies have made it through to the final round of Animax's Ani-Mate Search Contest. Local cosplayers with artistry, charm, and charisma, let's get to know the finalists:
Funky Maronne
Twenty year old Maronne Cruz's loves funky rock chic ensembles – which suit her well. A BS Management senior from the Ateneo de Manila University, Maronne's personality combines the off-beat and the energetic. Hailing from the Ateneo Blue Repertory, Maronne is a seasoned thespian too.
In cosplay, she has cosplayed Maka Albarn from Soul Eater, Sayaka Miki from Madoka Magica, and Stoking from Panty and Stocking. "I prefer strong female characters with big weapons," she explains. Learn more about Maronne via her Instagram: @maronnecruz.
Gamer Ira
Ira Orduña looks like your typical girl next door: long haired, doe eyed and petite. But looks deceive. This girly girl is actually an avid video game enthusiast. "I play a lot of DoTA (Defense of the Ancients) during my free time," she confessed. And her love for video games levelled up when she started cosplaying.
"I'm into cosplaying video game characters. My favorite is Azure Rhatalos from Monster Hunter," the 17 year old Bulakeña relates. "I joined the contest because of my friends' kakulitan. They kept sending me information about the contest. I got very interested." She has also cosplayed Luzviminda from Filipino Comics, Saeko Busujimma from High School of the Dead, Lady Sylvanna from WarCraft, and Aphrodite from God of War. Follow Ira on Twitter: @TheOfficial_Ira.
Bubbly Kat
Twenty year old Maria Katrina "Kat" Langomez is a graduate of AB Multimedia Arts from the College of Saint Benilde. The freshly minted graphics designer is also an enthusiast of the voice synthesizer program Vocaloid. Her favorite character, Miku Hatsune (from Vocaloid) is a reflection of her passion for music.
"I picked Miku Hatsune for my audition, because she is my favorite character. She is Japan's ultimate virtual diva and I've cosplayed her the most. So I went in there and they told me that I had to introduce myself and demonstrate my character. I did what Miku does best: dance and sing." Catch Kat on her Twitter: @procrastacat.
Hardworking Rhianna
Rhianna Floresca identifies with anime characters that are hardworking. She chose to cosplay Misaki Ayuzawa from anime series Maid-sama, the first female student council president of the school who secretly works part-time at a maid café to support her family. "I'm a lot like her. I'm really simple but of course when there's work I do it," shared the Philippine Studies graduate from De La Salle University.
Rhianna believes that a studied approach to cosplaying is key. "You must learn to cosplay, to understand characters really well," stated the 19 year old. "An Ani-Mate must understand the world of Animax. It's really about research, wanting to know more about the programs and to convey that to viewers."
Songstress Mayumi
For Mayumi Gomez, joining the Ani-Mates search is a chance to showcase her musical talents. "I joined because I think it will be a great way for me to share my love for music and art. I want to reach more people by becoming an Ani-Mate."
The charming 21 year old singer-songwriter is into Japanese electro pop. She uses the synthesizer, guitar, GarageBand software, and drums to create her music. Mayumi's growing fan base is evident from the scores of people following her on Twitter (@mayumimusic), Facebook, and SoundCloud. Her favorite anime character, Sheryl Nome from Macross Frontier, is also a singer
Down to Earth Rachelle
"I really like characters that are serious and quiet. They think deeply about things. I have cosplayed Homura Akemi from Puella Magi and Yin of Darker than Black. They are both serious types," shared 19 year old Rachelle Redecio.
Rachelle is a BS Computer Engineering student from the University of the Philippines Diliman. With a down to earth personality, Rachelle is a fan of the siomai rice meals and the famous isaw (chicken or pork intestine) sold in UP. "OK po yun, lalo na pag low budget na! (Those are OK, especially when your budget runs low!)" She admits that she will look forward to seeing herself on TV if she wins the contest. "I've never seen myself on TV, even as an usisera! It's really exciting for me."
Fan Girl Een
Koleen "Een" Mercado shared that her inspiration for cosplaying is none other than Animax's Ani-Mate Alodia Gosiengfiao. "I'm a fan of Alodia and I regularly visit her web pages. It's also how I found out about Animax's search for the new Ani-Mate. I'm so happy because I got to meet Alodia via this contest."
"I enjoy cosplaying and by becoming an Ani-Mate I'll be able to share what I enjoy," enthused the svelte Een Mercado. Konata of Lucky Star holds a special place in the 17 year old Een's heart. When not in character, Een prefers to wear demure sundresses and cardigan sets. "I love Japanese fashion," she added. Follow Een on Twitter @eenmercado.
Alodia to Welcome New Ani-Mate Co-Host at Animax Carnival Philippines 2012
Regarded as the country's "Cosplay Queen," Alodia Gosiengfiao's dedication to cosplaying (costume playing) has brought the dynamic art form to the fore of Philippine pop culture. A BFA Information Design graduate of Ateneo de Manila University, the doe-eyed and soft-spoken Alodia has been at it since 2003 and has built a career for herself in cosplay.
With a legion of fans – over 1.3 million fans on Facebook and 190,000 followers on Twitter – Alodia is easily one of the most influential Filipinos online. On TV, Alodia is known to many anime lovers as the host of 'Ani-Time with Alodia', a daily segment airing at 7 PM each night on Animax in the Philippines. 'Ani-Time with Alodia' features anime reviews, updates on events in and out of town, activities across the region, and anime-related quizzes, exclusively for Philippine viewers.
"It's a thrill to host 'Ani-Time with Alodia' to share with the many Animax viewers, the great anime shows, activities and events I enjoy. There have been no dull moments since I'm doing what interests me most," shares the 24 year old who has a front row seat to everything Animax as its Ani-Mate TV presenter.
On December 9, Alodia takes on one more role for Animax, and that is to judge the channel's first ever Ani-Mate Search Contest Finals at its inaugural Animax Carnival Philippines 2012. Among the seven finalists picked from dozens of hopefuls, Alodia will have a say in who joins her as a co-host of 'Ani-Time with Alodia'.
"As an anime lover, it's rewarding and immersive to be presenting on Animax. It's not just about telling audiences which Animax anime programs are good, but also sharing just why these shows are great. And there's nothing like representing Animax at events and activities big and small locally and across the region to meet and interact with all the fans and viewers that share my passion," she adds.
In addition to joining Alodia as a co-host on Animax and becoming the channel's representative at events, the winner will also take home a 25,000 peso cash prize. "I can't wait to welcome the new Ani-Mate! All seven finalists are awesome girls with engaging personalities. I hope they will be themselves and give their very best at the finals. I have high hopes and am looking forward to having a great new partner for 'Ani-Time with Alodia' on Animax!"
Fans visiting Animax Carnival Philippines at Robinson's Place Manila's Midtown Atrium on Sunday, December 9 will be able to catch the Ani-Mates Search Contest Finals. Alodia is also set to reveal her latest cosplay costume inspired from one of the hottest anime series currently airing on Animax, as a surprise for everyone at the event.
In addition to the Ani-Mates Search Contest Finals, a must-see stage segment of Animax Carnival is the cosplay contest that will bring together colorful local cosplayers donning the costumes of their favourite anime, manga or videogame characters and perform in-character to compete for cash and prizes.
Also, visitors can experience being an anime voice actor at a special dubbing to be the voice behind their characters from popular Animax anime programs including Beelzebub, Naruto, Bleach, K-On!, Fairy Tail, and Nura: Rise of the Yokai Clan.
Visitors can also try their hands at traditional carnival games like 'smash the cans', 'hook and fish', 'tic tac toss', 'coin toss' and popping balloons, with exciting prizes to be won. In addition, the 'AniChan Kids Corner' will delight the younger ones with engaging activities like anime eyes painting' as well as a manga (comic) drawing workshop for aspiring young artists.
Finally, don't miss getting into different anime-inspired costumes and even getting hair and make-up done the Japanese way for a picture to keep.
For more details on Animax Carnival Philippines 2012, visit www.animaxasia.com or catch Animax on TV.
To commemorate the showing of Shakugan no Shana II on Animax, Animax-Asia has lined up contests for fans to join to celebrate this event.
First up is the Shakugan No Shana 2 Watch & Win Contest:
"Watch Shakugan No Shana 2 every Monday to Friday starting from 1 July to collect all 12 codes for a chance to win limited edition Shakugan No Shana premiums. Submit all your codes together with your personal information to contests@animax-asia.com for a chance to win limited edition Shakugan No Shana premiums. Participants must be existing customers of SkyCable Philippines and Animax."

The voting poll begins on 1 July 2009 at 12:00am Philippines time and ends on 8 August 2009 at 11:59pm Philippines time. Each vote must be received no later than the deadline of 11:59 PM on 8 August 2009 in order to be eligible for the Prize drawing.

The winners of Shakugan No Shana 2 Watch & Win will be announced on http://shana.animax-asia.com on 17 August 2009.

GRAND PRIZE DRAWING: A designated representative of Animax will select five (5) Grand Prize winners and one (1) alternate winner from a random drawing to be held at the office of Animax in Singapore on or about 10:00 AM time on 11 August 2009. The decisions of Animax's representatives shall be final and binding on all aspects of the contest. It is not necessary for participants to be present at the drawing to win.

GRAND PRIZES FOR PARTICIPANTS: The Prize winners will receive a set of Shakugan No Shana 2 figurine, tote bag in one size and poster (worth US$60 per set), or another similar prize provided by Animax or another contest sponsor.

CONSOLATION PRIZE DRAWING: A designated representative of Animax will select twenty-five (25) Prize winners and ten (10) alternate winners from a random drawing to be held at the office of Animax in Singapore on or about 10:00 AM time on 11 August 2009. The decisions of Animax's representatives shall be final and binding on all aspects of the contest. It is not necessary for participants to be present at the drawing to win.

CONSOLATION PRIZES FOR PARTICIPANTS: The Prize winners will receive a set of Shakugan No Shana 2 tote bag in one size and poster (worth US$20 per set), or another similar prize provided by Animax or another contest sponsor.
The 2nd contest is the Vote for your favorite Shana lookalike girl!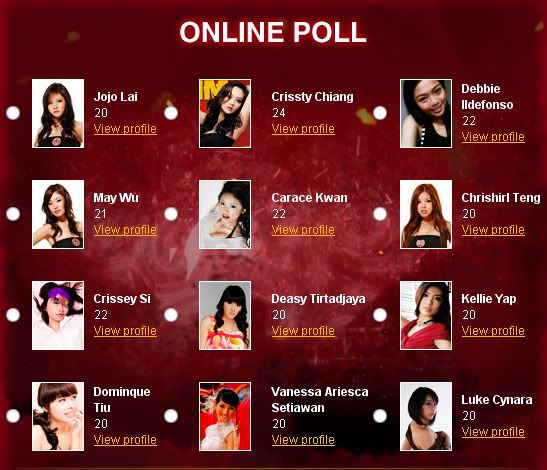 Nice to see that the Philippines' own Crissey Si is leading the votes by a mile! Good luck, Crissey!
Source:
Animax-Asia
Animax-Asia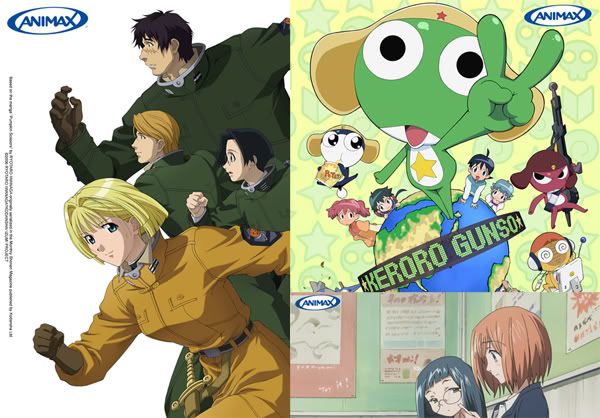 Animax will be showcasing the following Anime this August:
Pumpkin Scissors
Premieres 8/20, Every Mon-Fri at 7.30pm
Three years have passed since the ceasefire stopped the war between the Royal Empire and the Republic of Frost. The Royal Empire continues to be in chaos with widespread hunger and plague, and is constantly ravaged by soldiers-turned-bandits.
With the aim of providing war relief and restoring peace and order to the war-torn Royal Empire, the Imperial Army State Section III platoon is formed with the codename 'Pumpkin Scissors'.
Led by female protagonist 2nd Lieutenant Alice L. Malvin, the platoon 'cuts' like scissors through pumpkin-like layers of lies, power and money that the corrupted hide behind. The story takes an interesting turn as male protagonist and veteran tank-hunter Randel Oland joins Pumpkin Scissors…
Sergeant Keroro (Season 2)
Premieres 8/24, Every Mon-Fri at 6pm
Laugh your hearts out to all new episodes of the wild, wacky and oddball comedic anime series that is Sergeant Keroro on Animax.
Returning to the fore is the titular green, frog-like Sergeant Keroro as he continues to lead his colourful and wacky platoon of frog-like alien invaders on their unlikely mission to take over Earth. Things have not gone as planned since they landed, with platoon mates separated, and Keroro himself captured by the Hinata family and made a domestic helper to the household, with the unenviable task of everyday chores to contend with.
Hilarity ensues as Sergeant Keroro reunites with his bungling and uncooperative platoon mates. Always distracted by his Earthly obsession for building Gundam models, the silly Keroro ekes out a living in the Hinata household while continuing to plot for the ridiculous mission of world domination.
With plenty of familiar anime and pop-culture references along with many more quirky and goofy new characters joining the fun, expect more laughter as brand new episodes of Sergeant Keroro delight and amuse.
Living for the Day After Tomorrow
Premieres 8/4, Every Mon-Fri at 7.30pm
Karada Iokawa is a young girl who is to enter junior high school after summer, while Shoko Nogami is a young lady who just returned home from her studies abroad, and a close friend of Karada's older brother, Hiro.
While studying together in Boston, Hiro had to leave Shoko to return to Japan for his parents' funeral. Although he promised to go back to Boston, he eventually wrote to inform Shoko that he would not return without offering any reason. When Shoko returns, Karada takes her to meet with Hiro and other friends, but Shoko being still irritated, intentionally criticizes Karada as being childish.
Very unhappy, Karada then prays that she can grow up, and her wish miraculously comes true and she is transformed into a young woman. On the other hand, Shoko is transformed into an 11 year old.
What will do they do? How will they live their lives now? Tune in to Living For The Day After Tomorrow on Animax to find out.