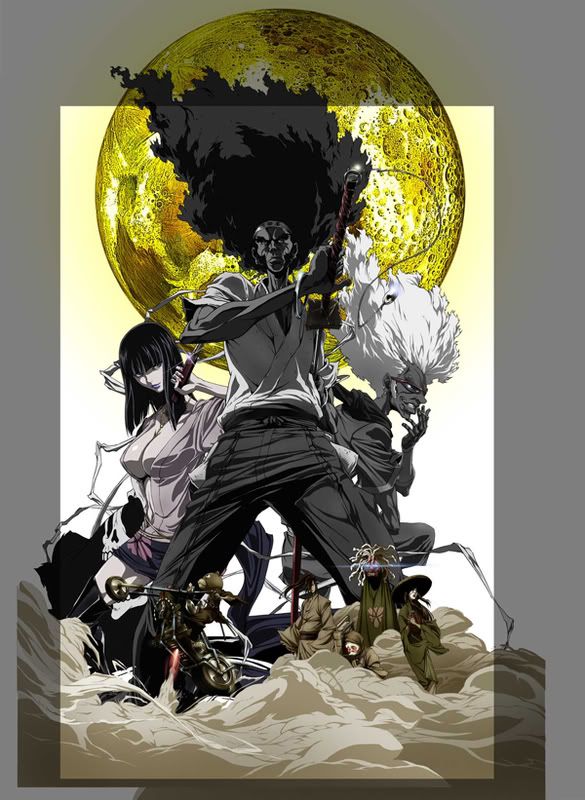 Here we go again.
Or maybe not.
After announcing an Afro Samurai sequel middle of last year, fans have been eagerly anticipating another over-the-top slashfest by the bad mutherfucker Afro in the movie sequel, Afro Samurai: Resurrection! But after seeing this sequel, I'm guessing those fans will just be better off watching again the original 5 episodes of Afro Samurai instead.
The animation for this movie, like the original 5 episode series, is still excellent and top-notch. The big problem is… that this sequel doesn't live up to the original series. First off is that they made the sequel into a movie, thus shortening the length of the anime and the story. Afro gets to kill lesser bad guys and the story seems to be compressed just so that it could fit into the time-frame of a movie. Another thing that bothered me is the glaring lack of originality in some scenes. Take for instance, the opening scene which is almost a direct rip-off of the opening scene of another samurai classic, Ninja Scroll.
And during a fight with the wearer of the No. 2 headband, Afro runs away from the fight! @_@ Damn! Afro got soft! And he's supposed to be a bad mutherfucker. Tsk tsk!
Add to that is the fact that Lucy Liu's character, Sio, isn't at all convincing as the tormented nemesis of Afro, who's only goal is to make Afro suffer first before killing him. Sure, Sio's brother Kuma suffered a lot 'cos of what Afro did in the original series, but Sio herself wasn't physically hurt in any way. We're supposed to believe that Sio suffered mentally 'cos of what Afro did? Hmmm… no dice.
And with the way that Sio is portrayed in the anime, with that hawt sezzy body and all… she has no nude scene?! How disappointing! ….. Oops! O_O
In conclusion, if you want a real samurai slashfest, go watch the original 5 episode Afro Samurai or Ninja Scroll instead. 'Nuff said.
Rating: 7/10