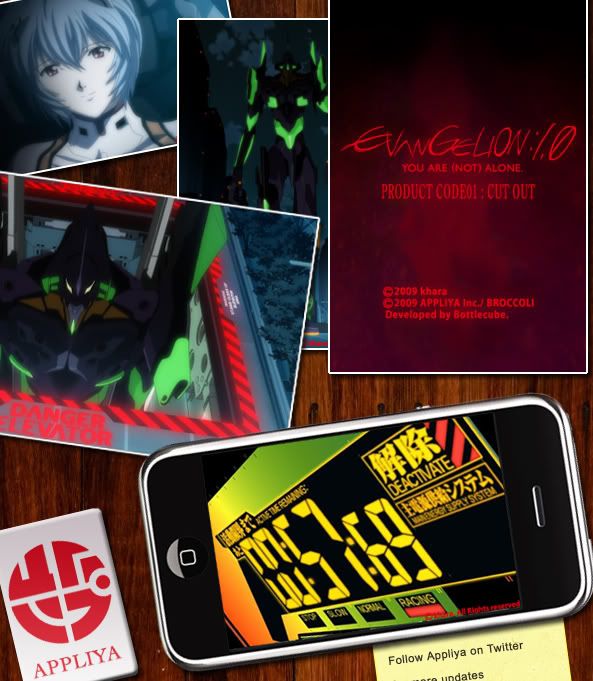 *pic above is Appliya's Evangelion Apps for iPhone/ iPod Touch
Tokyo-based APPLIYA Inc. launches APPLIYA STUDIO, a turn-key solution for content producers looking to take advantage of the iTunes App Store.
Following its successful launch of over 40 applications in the iTunes App Store, APPLIYA is using its experience and knowledge to create the APPLIYA STUDIO service, which enables content creators and rights-holders to build iPhone apps quickly and at low cost. Detailed information is available at http://appliya-studio.com/en/ (English version will soon be available).
The iTunes App Store is a global, direct-sales marketplace for content producers. However, taking advantage of this model has always required the seller to either have programming knowledge, or pay for costly application development "from scratch". APPLIYA STUDIO is a service that enables content creators who aren't programmers—such as artists, musicians, writers, and photographers—to showcase their works with apps for the iPhone and iPod Touch. If you have great content and want to make it available on the world's most talked about mobile devices, APPLIYA STUDIO is for you.
The benefits of APPLIYA STUDIO include:
Abundant "out of the box" application platforms

APPLIYA STUDIO provides pre-built, customizable application platforms called Content Application Templates (or, CAT). These app platforms include eBook viewers, quiz games, wallpaper apps, puzzle games, and more. Customers can select any suitable Content Application Template from the APPLIYA STUDIO library. With just a few tweaks, APPLIYA STUDIO can create an app with a unique look and feel to match any customer's product. Your content + CAT = a new application.

Low-costs & short development time

Costs for building an app utilizing one of APPLIYA STUDIO's pre-built Content Application Templates start at 50,000 JPY (approximately $524 USD, excluding excise tax). If no alterations to the functionality of the existing chosen platform is required, and if the customer provides images, text, and sounds in the required sizes and formats, no additional expense is required. In fact, if the provided materials fit all the specifications, it's possible to build an application in just two business days. Once the app is complete, APPLIYA will handle submission of the app to Apple for their approval process, which usually takes 3 to 10 days.

APPLIYA STUDIO also offers services to fully customize the programming of any of its existing templates, at additional cost.

Free Japanese-English translation services

English to Japanese or Japanese to English translations for the app descriptions displayed in iTunes are included in the service's basic cost. Translation of text within the application is also available at additional cost.

High royalty rate

Customers who create apps with APPLIYA STUDIO's platforms will earn 40% of gross sales (APPLIYA only receives 30% of sales, with Apple taking the remaining 30% as commission).
By partnering with various independent content creators, creator communities, publishers, and music labels, Appliya aims to provide a wide range of high quality application options to people who need a low-risk option for expanding their business into the exciting and lucrative iTunes App Store.
In conjunction with this service, Appliya has partnered with "loftwork"—Japan's largest content-creator community with 10,000 members—to hold an iPhone app contest. For more information, please see: "iPhone × loftwork world traveler – connect the world with iPhone Apps" at http://www.loftwork.com/special/iphone_appli.aspx (Japanese language only)