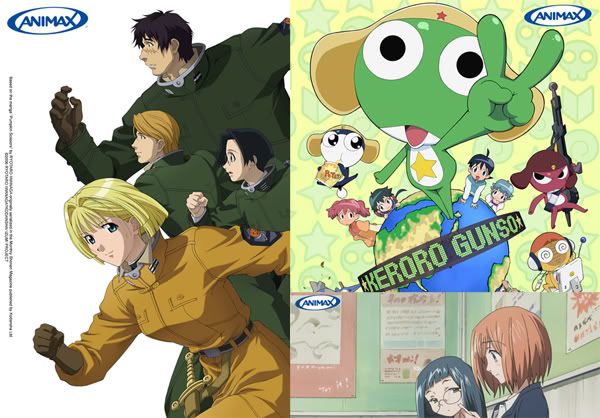 Animax will be showcasing the following Anime this August:
Pumpkin Scissors
Premieres 8/20, Every Mon-Fri at 7.30pm
Three years have passed since the ceasefire stopped the war between the Royal Empire and the Republic of Frost. The Royal Empire continues to be in chaos with widespread hunger and plague, and is constantly ravaged by soldiers-turned-bandits.
With the aim of providing war relief and restoring peace and order to the war-torn Royal Empire, the Imperial Army State Section III platoon is formed with the codename 'Pumpkin Scissors'.
Led by female protagonist 2nd Lieutenant Alice L. Malvin, the platoon 'cuts' like scissors through pumpkin-like layers of lies, power and money that the corrupted hide behind. The story takes an interesting turn as male protagonist and veteran tank-hunter Randel Oland joins Pumpkin Scissors…
Sergeant Keroro (Season 2)
Premieres 8/24, Every Mon-Fri at 6pm
Laugh your hearts out to all new episodes of the wild, wacky and oddball comedic anime series that is Sergeant Keroro on Animax.
Returning to the fore is the titular green, frog-like Sergeant Keroro as he continues to lead his colourful and wacky platoon of frog-like alien invaders on their unlikely mission to take over Earth. Things have not gone as planned since they landed, with platoon mates separated, and Keroro himself captured by the Hinata family and made a domestic helper to the household, with the unenviable task of everyday chores to contend with.
Hilarity ensues as Sergeant Keroro reunites with his bungling and uncooperative platoon mates. Always distracted by his Earthly obsession for building Gundam models, the silly Keroro ekes out a living in the Hinata household while continuing to plot for the ridiculous mission of world domination.
With plenty of familiar anime and pop-culture references along with many more quirky and goofy new characters joining the fun, expect more laughter as brand new episodes of Sergeant Keroro delight and amuse.
Living for the Day After Tomorrow
Premieres 8/4, Every Mon-Fri at 7.30pm
Karada Iokawa is a young girl who is to enter junior high school after summer, while Shoko Nogami is a young lady who just returned home from her studies abroad, and a close friend of Karada's older brother, Hiro.
While studying together in Boston, Hiro had to leave Shoko to return to Japan for his parents' funeral. Although he promised to go back to Boston, he eventually wrote to inform Shoko that he would not return without offering any reason. When Shoko returns, Karada takes her to meet with Hiro and other friends, but Shoko being still irritated, intentionally criticizes Karada as being childish.
Very unhappy, Karada then prays that she can grow up, and her wish miraculously comes true and she is transformed into a young woman. On the other hand, Shoko is transformed into an 11 year old.
What will do they do? How will they live their lives now? Tune in to Living For The Day After Tomorrow on Animax to find out.