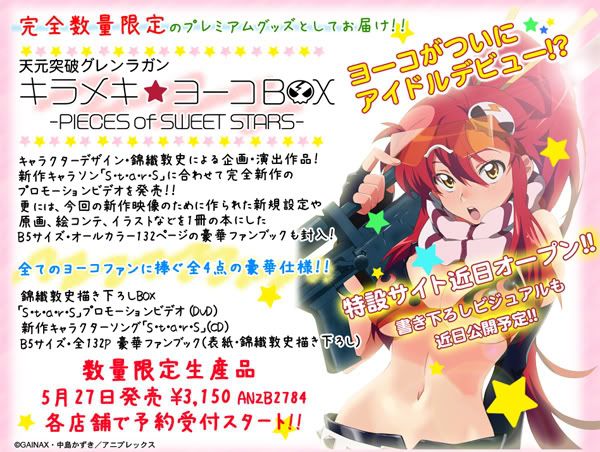 Its not only Hatsune Miku who can sing but Yoko from Gurren Lagann can sing as well! Marina Inoue, the seiyuu of Yoko in the anime, will be singing in the limited-edition Tengen Toppa Gurren Lagann: Kirameki Yoko Box ~ Pieces of sweet stars~ CD which contains the new song "S.T.A.R.S".
Via ANN:
The DVD will also include a video interview with Inoue and a booklet with over 130 pages of storyboards, original drawings, and designs.

The new spinoff project follows in the footsteps of the Gurren Lagann Parallel Works music videos that were released last year to promote the first film, Tengen Toppa Gurren Lagann: Guren-hen. The second and final film, Tengen Toppa Gurren Lagann: Ragan-hen, will open in Japan on April 25. Bandai Entertainment released the original anime series in North America on DVD and ran it on television with Manga Entertainment and Sci Fi Channel.