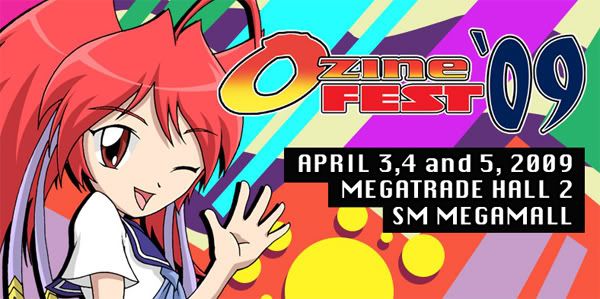 Ozine Fest '09 promises to be bigger and better this year as its gonna be held for 3 straight days on April 3, 4 and 5 at SM Megatrade Hall 2 at SM Megamall!
Check out their LiveJournal site here for more details.
Source: OzineFest via DreiDreamers~:
We introduced the Ozine Maid Cafe during Anicon '08 last October 5 and due to popular demand, the organizers decided to provide a BIGGER venue and more kawaii maids to serve and entertain you while you dine in Ozine Fest '09.
Event space not enough? Then introducing the Ozine Lounge wherein event goers can sit back and relax while surfing the internet and reading our magazines with some drinks. Staying in one place not your thing? Then try your luck in the Matsuri Area wherein you will get the chance to participate in the following activities: Gold Fish Scooping, Balloon Scooping, Darts and Balloons, and Pull a String. The Matsuri not only plans to entertain its attendees with fun games but it will also have the usual Caramelized Apple, Choco Banana, Onigiri, Taiyaki, and other traditional snacks common to a Japanese Festival.

We will be providing more updates soon. So be sure to check our entries regularly.

Ticket Price:
Php 100.00 per day.
Php 250.00 for 3-day pass.
3-day pass holders qualify for the raffle.

Day 1: Nintendo Wii
Day 2: Xbox 360 (Elite)
Day 3: Playstation 3

A ticket holder can win for Three (3) consecutive days as long as he or she is present to claim the prize. If the ticket holder is no longer present then the organizers will have to redraw for a new winner so be sure to stay until the raffle is done.
UPDATE:
Individual Cosplay Competition:
Date: April 3, 2009 (Friday)
Time: 10:00AM to 3:30PM Registration*
*Schedule may change without prior notice.
Date: April 4, 2009 (Saturday)
Time: 10:00AM to 2:00PM Registration*
*Schedule may change without prior notice.
You can contact the Organizers from these sites:
http://www.otakuzine-mag.com/ozinefest/info.html
http://www.otakuzine-mag.com/ozinefest/contact.html