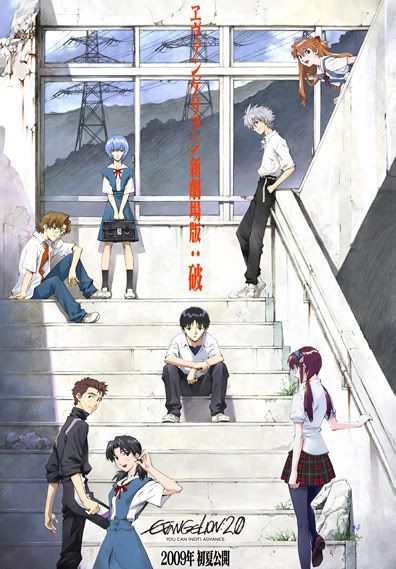 Evangelion: 2.0 You Can [Not] Advance, the 2nd film in the Movie remaking of one of the most popular animes of all time, Neon Genesis Evangelion, will be showing in Japanese movie theaters on June 27, 2009.
The 2nd film will focus on Asuka Langley, the EVA-02 through -06 units with new designs for many of them, a new eyeglasses-wearing brunette girl character, more fan "service-service," "a shocking new story, and new visuals."
Via ANN:
In related news, the official Evangelion website has announced on Thursday that the first movie in the remake project, Evangelion: 1.0 You Are [Not] Alone, will get a "1.11" release on Blu-ray Disc and DVD on May 27. The 1.11 release will include new cuts and digital mastering. More details on King Record's news release will be made public on March 16. There was an earlier "1.01" version that was first released on DVD last April and given a second theatrical run that same month.

Funimation is releasing the first film in North America in film festivals and later on DVD this year. The first film opened in September 2007, earned over 2 billion yen (about US$20 million), and became the #2 top-selling domestic DVD in 2008, just below Boys Over Flowers Final. It won the Harayasa T?kaimura Award at the 7th Annual Japanese Otaku Awards, the Animation of the Year award at the 7th Annual Tokyo Anime Awards, and the Theatrical Film Award at the 13th Animation Kobe Awards.
Source: Official Evangelion website