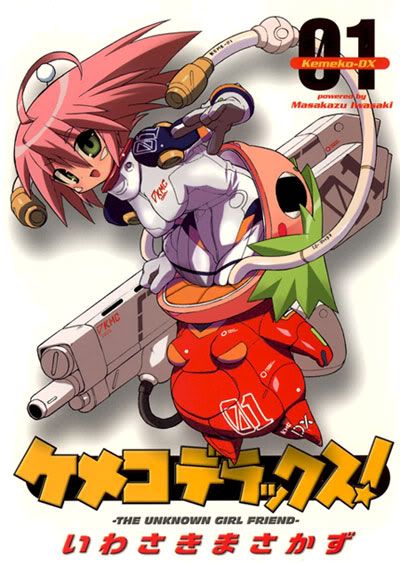 Last October, I did a little preview of some of the new anime that came out during that month. One of those anime, Kemeko DX has just finished airing its last episode and below is my full review.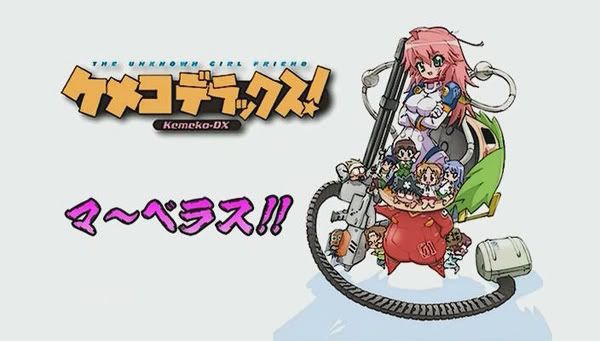 Just like a good, fun party with old friends, it was over before you know it. Kemeko DX ran for only 12 episodes but I have a feeling there'll be a 2nd season since the anime didn't really give a satisfying conclusion to the series plus it still had a lot of questions hanging regarding the major characters.
But if you haven't watched Kemeko DX yet, then let me give you a brief background on what the series is all about. Sanpeita Kobayashi is like any other normal high school kid who sometimes dreams of his childhood crush until one day, a spaceship crash lands into the roof of his room (yes, his room!) and out comes a small fat lady (Kemeko) being chased by mechanical things. She of course, vanquishes all her enemies and later gatecrashes into Sanpeita's class and proceeds with a wedding ceremony! O_O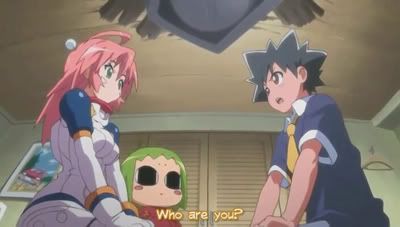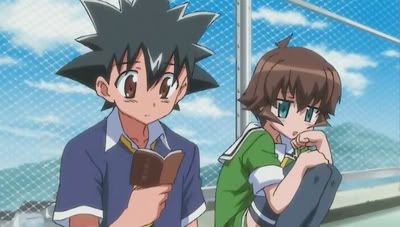 Sanpeita later finds out that there's a girl (M.M.) inside piloting Kemeko and she is just drop-dead gorgeous! Thus, begins Sanpeita's no longer normal high school life. Add in the sexy, voluptous classmate, annoying kid sister, manga artist mom (wow! that's a first), katana-wielding babe who tries to destroy Kemeko and Sanpeita then later becomes his classmate and reluctant friend, nerdy otaku classmate, villains from Mishima corporation and an army of Mishima robots and what you have is a potent mix of fun, laughter, gags, action and adventure! Whew!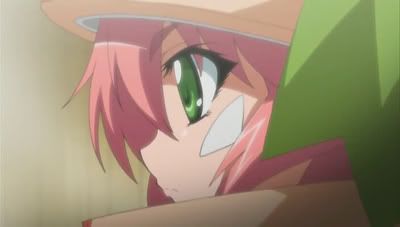 But what really brings this together is Sanpeita and Kemeko/ M.M.'s chemistry. Much of the laffs involves these two, especially when M.M. tries to seduce Sanpeita while still inside Kemeko. XD In-between the laffs, there's some action involved where Kemeko protects Sanpeita from Mishima corporation. The action sequences are pretty good and gives the anime a very fast-paced and frenetic flow which jives very well with the comedic sequences.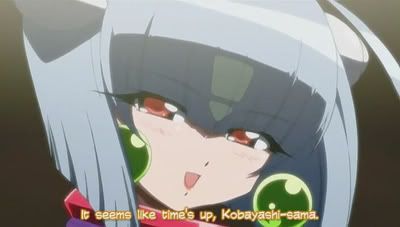 As expected, 12 episodes isn't enough to answer some of the questions that viewers will have, like where did M.M. and Kemeko come from and how come she's always inside Kemeko? The last episode did answer who M.M. was but didn't give an explanation on why she's piloting Kemeko in the first place. But in the end, that doesn't really matter 'cos the reason you'll be watching this series from start to end is the endless gags and laffs that each episode brings. Not to mention some fanservice too courtesy of Izumi (Sanpeita's childhood friend and classmate) and M.M., during the rare times that she's outside of Kemeko. ^^;
Rating: 9/10